1. Introduction
Our eyes are constantly delivering a great deal of information to our visual processing system. Although our visual field of view is fairly large, we may not necessarily be aware of or focus on every location in our field of view. On the contrary, we are only aware of and concentrate on a small fraction of the available information. This process is one of the functions of visual attention [10] and allows us to focus on particular locations in our visual field thereby avoiding an overload of the system. Such a selective process may appear to occur effortlessly, immediate and we may not always be aware of it. However, there are actually some complex processes occurring in the brain including the visual cerebral cortex. The human and primate visual cerebral cortex can be hierarchically divided into many distinct areas (see figures 1 and 2), each representing some portion of the information in the visual scene [4]. These areas have been studies extensively throughout the year however, our knowledge is still very incomplete. We do not know the exact functions of each area, their interconnections, and whether there are actually more areas we are not aware of yet. Recently, research is also taking an interest as to how non-visual input, or "extraretinal sources" (as referred to by the authors, for example, memory, motor planning, attention), can affect the processing and the representations of these areas. These studies have shown that neurons can be excited by extraretinal sources and can therefore deliver non-visual signals. Plenty of psychophysical studies related to attention have also been conducted and indicate that attention has a "modulatory" influence (e.g. it can be switched, it is selective [5], [1], [9] and have also discovered neural changes associated with attention [2], [6]. Attention has been found to play a role in form and color processing in areas V2 and V1 [7], [8], and has also been detected in the dorsal and ventral pathways of the visual cortex [3]. 1.1 Motivation of this studyDespite all the research related to attention, few studies have focused on attention with respect to visual motion, despite the fact that motion processing is an important part of vision! Furthermore, understanding of the neural basis of motion analysis would be incomplete without knowing how it's affected by the behavioral state [11]. Visual motion processing in the visual cortex is primarily performed in areas MT (Middle Temporal) and MST Medial Superior Temporal), both of which contain many direction sensitive neurons.

The study described in this paper is concerned with examining the affect of attention with regards to visual motion. It aims to examine the importance of attentional modulation of visual motion signals, by examining the response (using single cell recordings), of neurons in the areas MT and MST of two macaque monkeys, under different attentional conditions.

So just what exactly does this hierarchy look like and where are the areas MT and MST located? Figure 1 illustrates the flat map of the macaque monkey as determined by Fellman and Van Essen [4].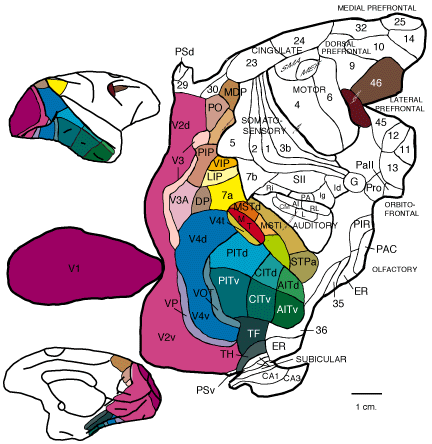 Figure 1. Flat map of the macaque monkey brain as determined by Fellman and Van Essen [4].
The hierarchy of areas, again as determined by Felleman and Van Essen [4], is illustrated in figure 2.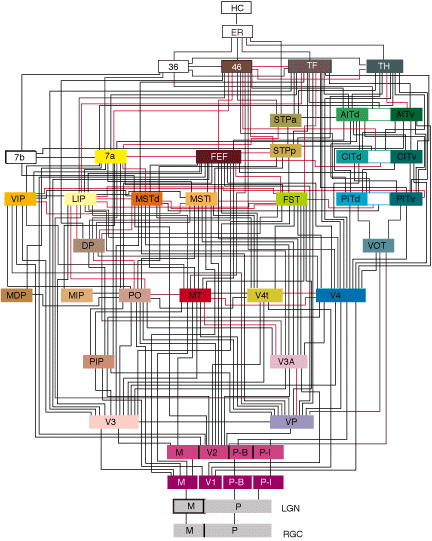 Figure 2. Hierarchy of the visual areas in the brain of a macaque monkey as determined by Fellman and Van Essen [4]).
Note; these diagrams were constructed over 10 years ago. Some off the information may have been updated over time however, the work of Felleman and Van Essen is still references in current papers including this paper.
---