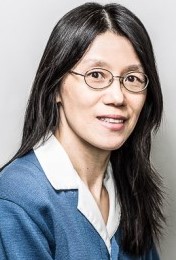 Aijun An
Professor
Department of Electrical Engineering and Computer Science
York University
4700 Keele Street
Toronto, Ontario M3J 1P3
CANADA

Phone: 416 736 2100 x44298
Fax: 416 736 5872



aan at cse dot yorku dot ca

General Information
I obtained my Ph.D. degree in Computer Science from the University of Regina. From 1997 to 2001, I worked at the Department of Computer Science of the University of Waterloo first as a post-doctoral fellow and later as a research assistant professor. I joined the Department of Computer Science (now named Department of Electrical Engineering and Computer Science) of York University in July 2001.
Research
Areas of interest: data mining, machine learning, natural language processing, and artificial intelligence.
Current Research Projects

Knowledge-based Neural Question Generation from Text, collaborated with iNAGO Corp. and supported by an NSERC Alliance grant and fund from iNAGO.
Optimizing data migration and performance of target systems, collaborated with IBM Cloud and funded by IBM CAS.
GPU Job Scheduling Using Deep Reinforcement Learning, collaborated with IBM Spectrum Computing and funded by IBM CAS.
Improving Automatic Question Generation from Automotive Manuals for Building Conversational Systems, funded by an OCI TalentEdge grant and iNAGO Corp.
Adaptive Online Mining of Big Data Streams, funded by NSERC Discovery Grant and NSERC Discovery Accelerator Supplement.

Previous Research Projects
Research Training Programs
Teaching
I am teaching EECS4412 (Data Mining) and EECS6412 (Data Mining)
Research Supervision
Awards
NSERC Discovery Accelerator Supplement (DAS) Award, 2014, 2019.
Research Leaders Award, York University, 2015.
The Mildred Baptist Teaching Excellence Award, Department of Computer Science and Engineering, York University, 2009.
Merit Awards, York University. (2004, 2005, 2006, 2007, 2008, 2009, 2010, 2011, 2012)
Best Paper Award at the Thirteenth Canadian Conference on Artificial Intelligence (AI'00).
Professional Service to Academia
Journal Editorial Service
Conference Organizations
Service on Conference Program Committees

SIGKDD'07, SIGKDD'08, SIGKDD'10, SIGKDD'11, SIGKDD'13, SIGKDD'14, SIGKDD'15, SIGKDD'16, SIGKDD'18 SIGKDD'19, SIGKDD'20, SIGKDD'21, SIGKDD'22, SIGKDD'23
IJCAI'18, AAAI'19, AAAI'20, AAAI'21, AAAI,22, AAAI,23, AAAI'24 NeurIPS'21
ICDM'06, ICDM'07, ICDM'09, ICDM'10, ICDM'11, ICDM'12, ICDM'13, ICDM'15, ICDM'16, ICDM'17, ICDM'18, ICDM'19, ICDM'20, ICDM'21, ICDM'22, ICDM'23
SDM'11, SDM'12, SDM'16, SDM'19(SPC), SDM'20(SPC), SDM'21(SPC), SDM'22(SPC), SDM'23(SPC)
CIKM'08, CIKM'09, CIKM'10, CIKM'11, CIKM'16, CIKM'17, CIKM'22(SPC), CIKM'23(SPC)
ECML/PKDD'06, ECML/PKDD'11, ECML/PKDD'14, ECML/PKDD'15, ECML/PKDD'16, ECML/PKDD'17, ECML/PKDD'18, ECML/PKDD'19.
BIBM'07, BIBM'08, BIBM'09, BIBM'11, BIBM'12, BIBM'13
ISMIS'06, ISMIS'09, ISMIS'12, ISMIS'14
Canadian AI'10, AI'11, AI'13
ASONAM'09, ASONAM'10, ASONAM'13, ASONAM'14
IEEE GrC'06, GrC'07, GrC'08, GrC'09
ADMA'11, ADMA'12
ICTAI'11, ICTAI'12