OBSTACLE DETECTORS:

Warn only of the presence and possibly a distance to the object in the user's path.
PAST AND PRESENT COMMERCIAL OBSTACLE DETECTORS:
SEEING AID:
Emits infrared waves through in-expensive LEDs mounted on a pair of glasses.
A tone is emitted when there is an object in the user's path.
I.R beam is narrow allowing the user to scan their path for objects.
---
LASER CANE:(~1966):
Long cane containing three laser beams:
VERTICAL: Detects objects above the waist up to 5.5ft. away.
FORWARD: Detects objectsstraight ahead up to 8ft.
DOWN: Detects objects below the waist (curbs, stairs etc.)
Three seperate tones emitted corresponding to each beam as well as a vibrating unit for the forward beam.
---
Small hand held device.
Emits brief pulses of ultrasound.
Conveys distance to the user through vibrations (the closer an object, the greater the vibration).
User may choose between two ranges - 1m and 4m.
---
WALKMATE: (from COBOLT Systems)
Simple device.
Hand held or can be worn with a neck strap and waist band to hold just below the chest.
Not selective in its display of information (e.g. not much use in a cluttered environment).
Can respond with either beeps or through the extra plug-in vibration unit.
The above description was reprinted from the following site:

http://www.netlink.co.uk/users/pia/it12_5.html
---
NOTTINGHAM OBSTACLE DETECTOR (1973):
Hand held sonar aid informing the user of an object within 4ft. or 8 ft.
Output is conveyed through vibrations (higher the frequency, the closer the object).
Can be used by blind-deaf people.
---
ULTRA SONIC TORCH (1965)
High resolution, hand held ultrasonic device.
---
ENVIRONMENTAL AIDS:
Detect objects but also provide characteristic information about the object as well.
---
PAST AND PRESENT COMMERCIAL ENVIRONMENTAL AIDS: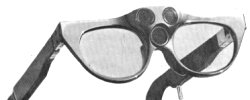 BINAURAL SENSORY AID (SONICGUIDETM) (1965):



Pair of glasses containing an ultrasound emitter and two receivers (left, right), whose signals are fed seperately to the corresponding ear allowing for object location to be determined through binaural hearing.
Distance (up to 18ft.), is indicated by pitch, (higher pitch = greater distance).
Quality of the output sound can be used to identify the object surface, (clear sound = hard surface, fuzzy sound = rough surface).
Does not interfere with normal hearing.
Can be used to teach perceptual development to blind infants and children.
Does not detect drop-offs, curbs.
---
TRISENSOR (KASPA) (1994):
SonicguideTM mounted on a head band, with an "added high resolution monaural sensor in order to model the dual function of the eye (fovial and peripheral fields of view)".
Micro-processor controlled to generate high resolution location of objects.
Locations of multiple objects in a 90o field of view.
---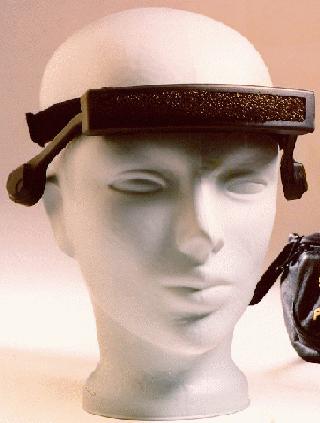 THE SONIC PATHFINDER:
Head mounted computer controlled sonar system containing three receivers.
Notes of the musical scale are output progressing in tone as the object is approached.
Object to the left or right of the user causes the tone to be heard in the respective ear whereas an object directly ahead outputs the tone to both ears.
The presence of the nearest object is conveyed and with no object present the user is informed about the proximity of the shore-line.
Range is about 8ft.